August 10, 2021, Shanghai- Mabwell announced today that NMPA has accepted the company's IND application for an anti-Nectin-4 ADC(R&D code: 9MW2821). This is China's first drug candidate that has been accepted by the NMPA for IND application review among its domestic counterparts using the same target.
9MW2821, categorized as a Class I innovative drug, is a novel anti-Nectin-4 ADC drug candidate developed by world-class ADC drug development platform and automated high-throughput antibody discovery platform of Mabwell. This drug candidate has achieved site-specific modification based on the ADC conjugate technology jointly developed by Mabwell and Shanghai Institute of Materia Medica.
9MW2821 boasts the advantages of homogenous structure, high purity and being easy production. It has also demonstrated favorable druggability properties in binding affinity, endocytosis, preliminary in vivo and in vitro pharmacodynamic activities, drug metabolism properties and preliminary safety. Results from preclinical pharmacological and toxicological studies showed that this drug candidate has favorable anti-tumor effects in a variety of animal tumor models. In addition, its safety in cynomolgus monkeys and mice indicated a superior safety margin.
9MW2821 will be evaluated in advanced and metastatic urothelial carcinoma in a Phase 1 trial, and Mabwell plans to explore its potential in other solid tumors in future trials.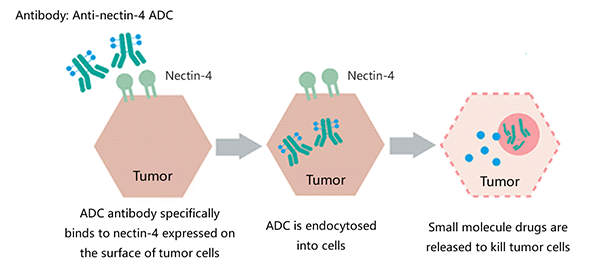 Mechanism of 9MW2821